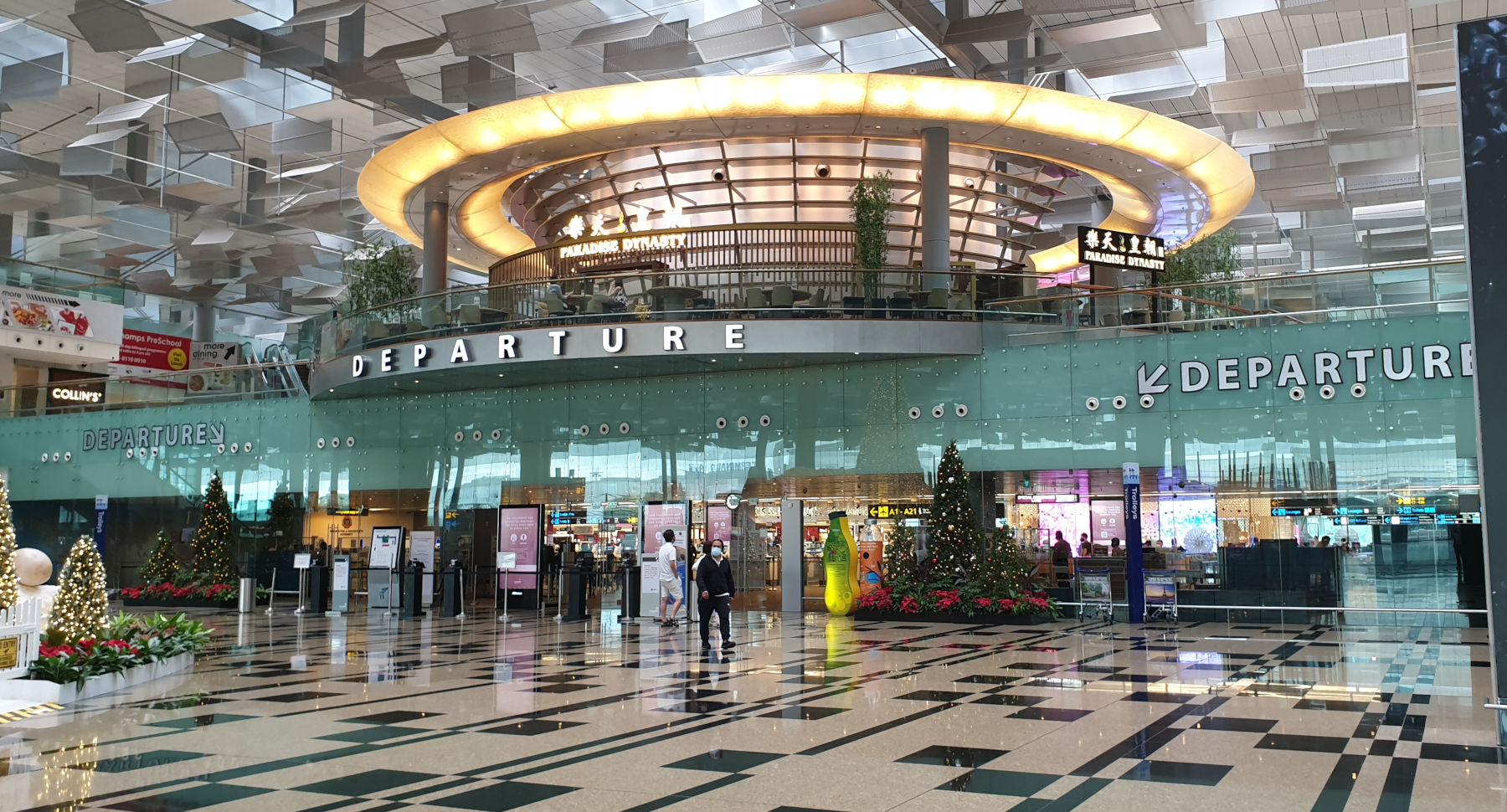 What you need to know about travelling to and departing from Singapore
Are you planning to travel overseas, or receive a visitor? This page endeavours to provide useful links for your plans to proceed smoothly.
Follow us on Telegram for updates: https://t.me/AsiaMDsg
Travelling to Covid-resilient Singapore
All travellers seeking to enter Singapore will enter via a SafeTravel Lane arrangement, and the eligibility criteria and requirements for each SafeTravel Lane differ depending on the traveller's profile. Please use the tool at https://safetravel.ica.gov.sg/arriving/overview to check which Safe Travel Lanes you may use to enter Singapore.
Here's what you need to know about applying for an Air Travel Pass (ATP). 
You need to submit an ATP application 7 to 30 days prior to the intended travel date.
The ATP is not equivalent to a visa. If a visa is required, the traveller will need to apply for it separately, after obtaining ATP approval.
Purchase travel insurance, with a minimum coverage of S$30,000 for Covid-19-related medical treatment and hospitalisation costs. Prepare an electronic or physical copy of your insurance policy as proof.
Submit your health, travel history, and accommodation declarations electronically via the SG Arrival Card e-service here, no earlier than 3 days prior to your date of arrival in Singapore.
You must download the TraceTogether app for contact tracing purposes, and activate it upon arrival. Visitors who are unable to download the TraceTogether app on their existing mobile device, can rent a compatible mobile device from Changi Recommends before departing for Singapore. Visitors who can download the TraceTogether app but are unable to obtain an SMS One-Time Password (OTP) to register their profile on the app due to network restrictions, can book a Singapore SIM card from Changi Recommends before departing for Singapore.
Visitors with an ATP do not need to serve a 14- or 21-day quarantine period, but must be subjected to an on-arrival Covid-19 Polymerase Chain Reaction (PCR) test. The test results will be ready within 48 hours and visitors must isolate themselves during this intervening period.
After undergoing the test, visitors must immediately take private transportation, taxi, or private hire car to their declared accommodation (see point below).
You will need to book an accommodation in Singapore to serve out your isolation period for 1 to 2 days while waiting for the on-arrival PCR test result (the accommodation must be non-residential and an individual room with an attached toilet). The costs of accommodation and transportation will be borne by the visitor.
Please note that duty-free shopping can only be done within the transit area and not after immigration clearance.
On August 6, 2021, Singapore's Ministry of Health said that fully-vaccinated travellers from Australia, Austria, Canada, Germany, Italy, Norway, South Korea and Switzerland will be able to apply to serve their SHN at their place of residence rather than a dedicated facility, from 11.59pm on August 20. 
Singapore announced on October 23 that it will reopen its borders to some travellers from six countries, including Bangladesh and India, as well as loosen testing and stay-home notice restrictions for several other countries, including Malaysia and Indonesia.Get the latest on visa requirements and travel advisories from the Ministry of Foreign Affairs Singapore website.
In Singapore, there are three types of "Safe Travel Lanes" at the moment. 
Type of pass
 Description 
Air Travel Pass (ATP) for entry

The ATP allows for all forms of short-term travel, including leisure travel.

Foreigners, who are short-term visitors from the relevant travel bubble partner countries, may apply for an ATP for entry into Singapore at no charge here. Applications must be made between 7 and 30 calendar days prior to the visitor's intended date of entry into Singapore.

Reciprocal Green Lanes (RGLs)
RGLs facilitate cross-border travel for essential business and official purposes on a reciprocal basis between two countries. The RGLs on the list have specific departure requirements and application processes and more details can be found here.
Periodic Commuting Arrangement
The Periodic Commuting Arrangement (PCA) is a Safe Travel Lane agreed between the governments of Singapore and Malaysia. It supports companies in Singapore and Malaysia by facilitating the movement of workers between both countries. It is only permitted via land.
Do note that border control measures are dynamic and are subject to changes. Formerly existing travel arrangements may have been suspended due to the evolving Covid-19 situation in affected countries. Refer to the ICA SafeTravel website for the latest updates.
Vaccinated Travel Lane for Singaporeans and PRs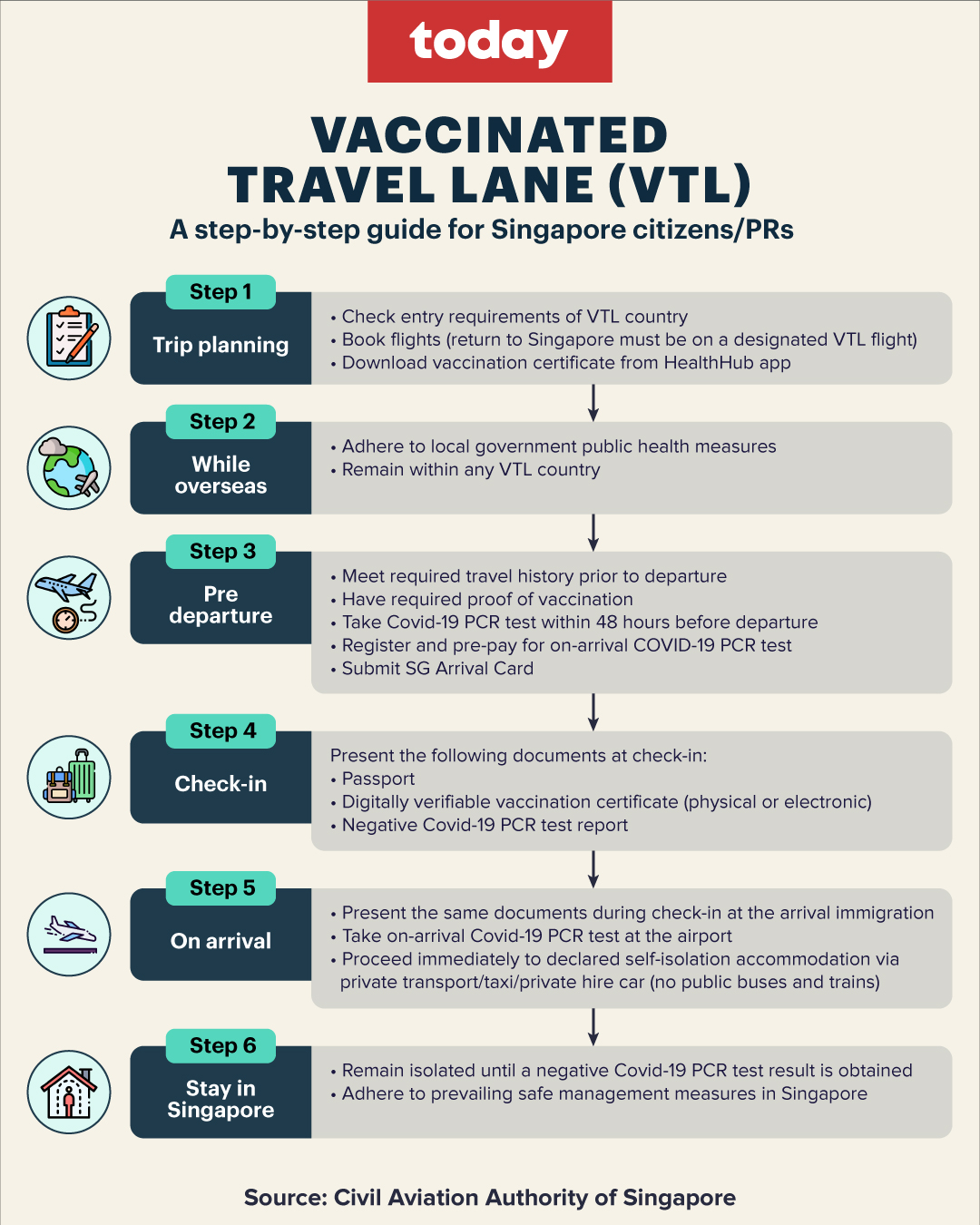 Student travellers
Singapore students studying overseas should refer to this advisory by the Ministry of Education. 
Student Pass (STP) holders studying at a Privately-Funded School (PFS) should use this form to apply for approval to enter Singapore.
Getting a pre-departure Covid-19 test
Some destinations may require incoming travellers from Singapore to take a pre-departure Covid-19 test. The testing can only be done at selected clinics. Click here for more details.