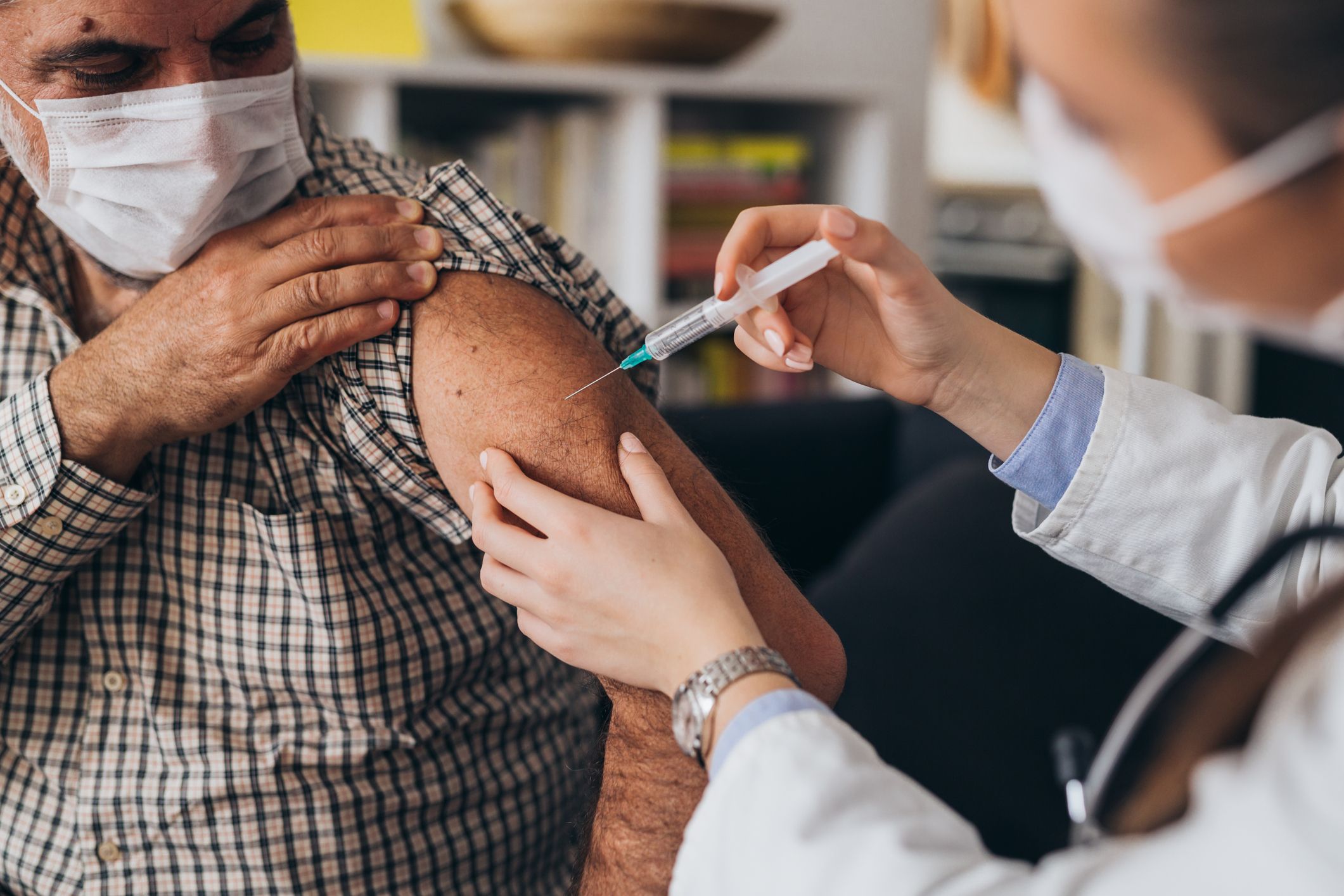 Safety of mRNA Covid-19 Vaccines
Singaporeans have already been warned: the Government's aim is to get as many people vaccinated as quickly as possible, so they will not reserve vaccines for those who opt to wait and see. We already know that Singapore's national vaccination programme includes only mRNA Covid-19 vaccines from Pfizer-BioNTech and Moderna.
Follow us on WhatsApp for the latest updates: https://bit.ly/AsiaMDWhatsAppEN 
Both vaccines from Pfizer-BioNTech and Moderna work via a novel messenger RNA (mRNA) mechanism. This means that the vaccines teach our cells how to make a protein which triggers an immune response inside our bodies.
In their phase 3 clinical research trial published in the New England Journal of Medicine (NEJM) in Dec 2020, Pfizer-BioNTech's end-point results showed 95% efficacy in preventing symptomatic Covid-19 infection as defined by this criteria: (1) patient should have at least one symptom of Covid-19 infection and (2) obtain a positive outcome for a swab PCR test for Covid-19 nucleic-acid within four days of having such symptoms.
For Moderna, their phase 3 clinical research published in NEJM in Dec 2020 defined Covid-19 cases differently. Their end-point results showed 94.1% efficacy in preventing symptomatic Covid-19 infection, which is defined by: (1) having at least two symptoms of Covid-19 infection and (2) testing positive for swab PCR tests for Covid-19 nucleic-acid at any time.
Prior to June 4, 2021, the vaccine task force had adopted a more conservative stance and did not offer the mRNA Covid-19 vaccines to the following:
pregnant and breastfeeding mothers

immunocompromised people (i.e. cancer patients, transplant patients taking immune suppression drugs)

people who have a history of anaphylaxis (very severe allergic reactions)

those who are severely ill
However, these vaccination guidelines have since been revised by the task force after more people have been vaccinated both globally and locally. These groups of people who were previously ineligible for vaccination can now register themselves:
Pregnant and breastfeeding women

Cancer patients receiving active treatment

Persons with drug reactions

Persons with a history of anaphylaxis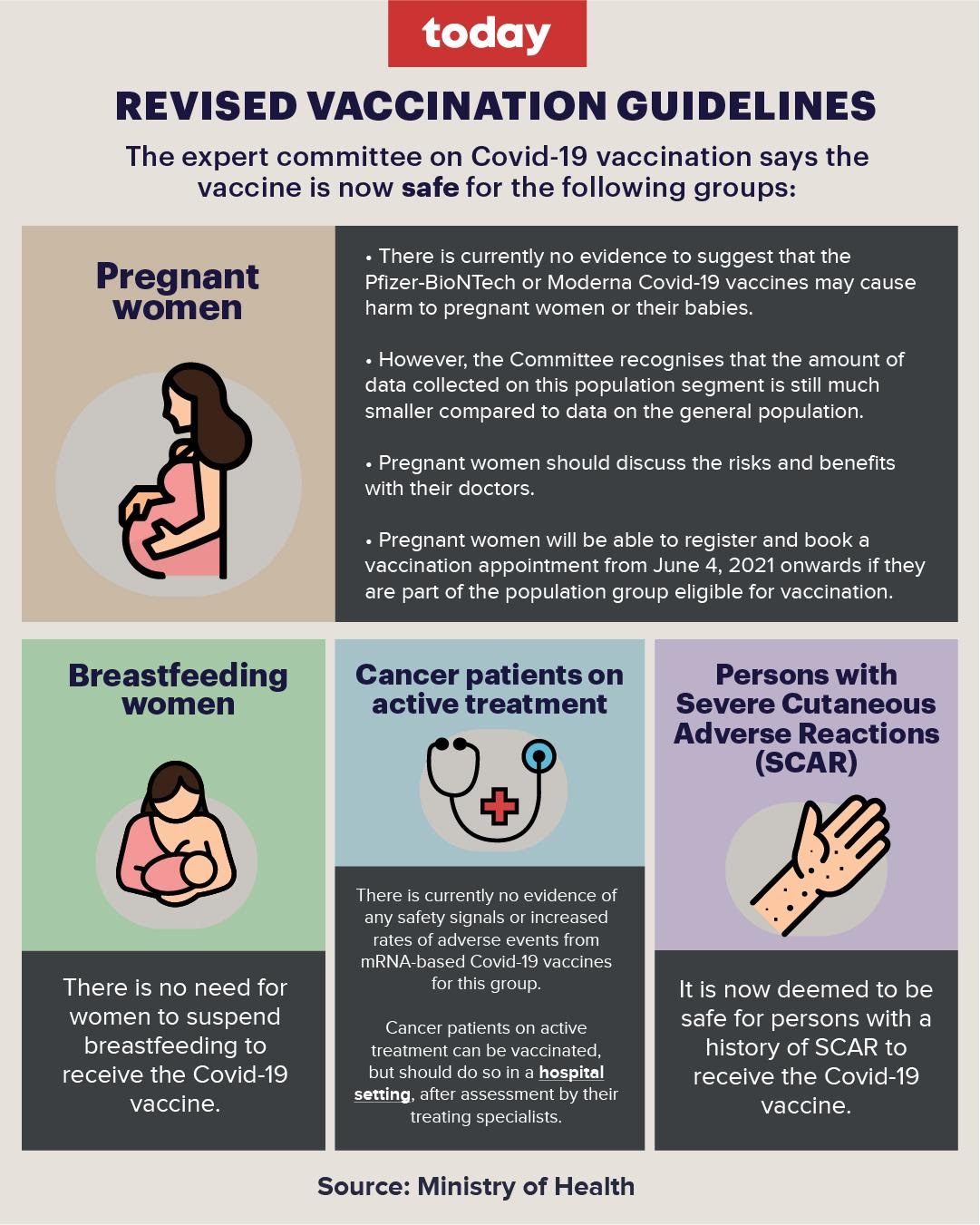 Image: todayonline.com
There may be other burning medical questions bugging you, such as: Do the vaccines prevent transmission of the virus to others? What do we know about each of the vaccines?
If you're looking for further reading on the vaccines' short-term and long-term safety, we found a handy resource that can help. Infectious disease specialist, Professor Paul Sax from Harvard Medical School, has given detailed answers to some frequently asked questions about the mRNA vaccines, which were the first Covid-19 vaccines to have been approved for use in the United States. We've picked 12 questions that may have crossed your mind. For full details, please refer to the original NEJM article. Please note that the medical recommendations from the Centers for Disease Control and Prevention (CDC) in the United States may diverge from the guidelines issued by Singapore's vaccine task force.
Do we still need to mask up, wash our hands and socially distance after receiving the vaccines?
At the moment, doctors do not know whether the vaccines completely prevent asymptomatic infection and inadvertently cause people to become carriers of the Covid-19 virus. Since up to 40% of people who get infected with SARS-CoV-2 have no symptoms but may still transmit the virus to others, this is a theoretical concern. Therefore, vaccination does not allow everyone to halt all important precautionary measures such as wearing masks, practising social distancing, avoiding crowded indoor settings and regular hand washing.
The protective effect from vaccines will never be 100%. These caveats notwithstanding, doctors say that these vaccines will reduce the capacity to transmit the virus to others.
What do we know about each of the vaccines' short-term and long-term safety?

The most common short-term side effect is pain at the injection site, especially 12 to 24 hours after the jab. Around 1% of participants in the trials categorised the pain as "severe." Other relatively common side effects include fatigue and headache. High fevers are less common. These side effects generally resolve within a couple of days and are responsive to paracetamol or a nonsteroidal anti-inflammatory drug such as ibuprofen.
In general, side effects are more common in younger vaccine recipients than in older ones, with the second shot inducing more side effects than the first dose.
Bell's palsy was reported more frequently in vaccine recipients than in controls, but there was not a sufficiently large number of cases to conclude that this was beyond what would naturally be observed in populations of this size by chance. There were no cases of Guillain–Barré syndrome or transverse myelitis.
However, there have been reports of vaccine recipients experiencing severe allergic reactions (anaphylaxis) shortly after receiving their first dose in the United Kingdom and the United States. The current leading suspect in causing these reactions is polyethylene glycol, a compound present in both the Pfizer-BioNTech and Moderna vaccines.
It's critically important to emphasise that these allergic reactions are uncommon — the current estimate is that anaphylaxis will occur at approximately 1 in 100,000 doses. Although this rate of severe allergic reactions is higher than that with other vaccines, it is substantially lower than the rate reported with penicillin, which is estimated to be 1 in 5000.
As for the long-term side effects, the short answer is that doctors do not know yet. The remarkably fast pace of vaccine development means that medical professionals have had only months, not years of follow-up. Both the Pfizer-BioNTech and Moderna vaccines, which work via a novel messenger RNA (mRNA) mechanism, started only in the summer of 2020.
But with other immunisations, severe reactions typically occur within days or weeks after administration. Long-term side effects with vaccines are quite rare, with putative associations later debunked by carefully done population-based studies.
Further safety data on both vaccines will be reported to the Vaccine Adverse Event Reporting System (VAERS), a national early warning system in the United States that was set up to detect possible safety problems in any licensed vaccine and has been in operation since 1990.
Are there contraindications to any of the vaccines?
The only absolute contraindication to these vaccines is known hypersensitivity to the vaccine components. Specific recommendations from the CDC in the US regarding contraindications list the following:
Severe allergic reaction (e.g., anaphylaxis) after a previous dose of an mRNA Covid-19 vaccine or any of its components

Immediate allergic reaction of any severity to a previous dose of an mRNA Covid-19 vaccine or any of its components (including polyethylene glycol [PEG])

Immediate allergic reaction of any severity to polysorbate (due to potential cross-reactive hypersensitivity with the vaccine ingredient PEG)
In this NEJM report, Dr Sax says that anaphylaxis in reaction to any other vaccine or injectable therapies is not a contraindication to these Covid-19 vaccines, but persons with this history should be observed for at least 30 minutes after they receive their dose.
If a person experiences a severe reaction (in particular anaphylaxis) to the first shot, the person should not receive the second. People who experience severe pain will need to make an individual decision about whether to proceed with the second shot — it is not contraindicated, but side effects tend to be worse with the second dose. One potential strategy is to administer acetaminophen or ibuprofen as soon as the pain starts after the second dose. The CDC does not recommend pre-vaccine administration of these drugs, since theoretically they could blunt vaccine-induced antibody responses.
Monoclonal antibodies or convalescent plasma for treatment of Covid-19 could theoretically reduce the efficacy of the vaccines. Anyone who has received these treatments should delay receiving the vaccine for at least 90 days, a duration that factors in both the known half-life of these therapies and the low likelihood that someone with Covid-19 will experience reinfection in this time period. Further discussion of the rationale behind this recommendation has been added to the clinical considerations from the CDC guidance.
Should immunocompromised patients receive the vaccine?
The CDC considers immunocompromised patients to be at increased risk for severe Covid-19. This is broadly defined as patients with histories meeting the following criteria, which are not 100% inclusive:
Cancer

Bone marrow transplant

Solid-organ transplant

Stem cells for cancer treatment

Genetic immune deficiencies

HIV

Use of oral or intravenous corticosteroids or other medicines called immunosuppressants that lower the body's ability to fight some infections (e.g., mycophenolate, sirolimus, cyclosporine, tacrolimus, etanercept, rituximab)
The American Society of Hematology and the American Society for Transplantation and Cellular Therapy has a similar list with additional details. Because of the heightened risk of severe Covid-19 in this population, immunocompromised patients should receive the Covid-19 vaccines if there are no contraindications.
Should pregnant or breastfeeding women receive the vaccine?
Although pregnant and breastfeeding women were not enrolled in the Covid-19 vaccine trials and as a result there are limited data about safety, the CDC advises that pregnant and lactating women should be offered the vaccine and may choose to be vaccinated. This view is shared by the American College of Obstetricians and Gynecologists and the Society for Maternal–Fetal Medicine. There is no theoretical reason why mRNA vaccines would be harmful to the mother during pregnancy, to a developing fetus, or to a breastfeeding infant. Also reassuring is that gestating rats receiving the Moderna vaccine did not demonstrate any safety concerns related to fetal or embryonal development.
Acetaminophen or paracetamol is preferred for diminishing side effects among pregnant women.
Can children receive the vaccine?
The Pfizer-BioNTech vaccine is now authorised for patients ≥12 years, and the Moderna vaccine for ≥18 years. Clinical trials are under way to test Covid-19 vaccines in children under the age of 12.
How should early side effects be managed?
Analgesics and antipyretics such as acetaminophen, paracetamol or ibuprofen are effective in managing post-vaccine side effects including injection-site pain, myalgias, and fever. However, the CDC does not recommend pre-vaccine administration of these drugs, as they could theoretically blunt vaccine-induced antibody responses.
Should acetaminophen, paracetamol or nonsteroidal anti-inflammatory drugs be taken prior to vaccination to prevent post-vaccination symptoms?
Although these drugs could decrease subjective side effects, theoretically they could also blunt immune response and make the vaccines less effective — hence they are not recommended before vaccination. They are useful, however, in diminishing side effects once they occur.
Should a patient who was exposed to Covid-19 receive the vaccine in order to prevent the disease?
Currently, there is no data to support use of the Covid-19 vaccines acutely to prevent disease after a known exposure to an active case. Since the incubation period for Covid-19 averages around five days, it is unlikely that the vaccine would elicit an immune response quickly enough to block infection. As a result, people who have been exposed to Covid-19 should finish their 10- to 14-day quarantine before undergoing immunisation. Since some vaccines for other diseases (notably varicella) are effective in preventing infection after exposure, it is possible that this will be a future recommendation for Covid-19 vaccination, but currently it is not.
Should patients who have recovered from Covid-19 receive the vaccine?
Yes, they should receive the vaccine. Some of the people who participated in the clinical trials had evidence of prior SARS-CoV-2 infection (based on a positive antibody test), and the vaccines were safe and effective in this group.
Since re-infection after recovery from Covid-19 is rare in the first 90 days, some people may wish to defer immunisation for this long — however, if they wish to be immunised sooner, there is no contraindication. Patients who were treated with monoclonal antibodies or convalescent plasma should wait this long, however. These treatments might inactivate the vaccines, making them less effective. Deferral of immunisation for 90 days after treatment with monoclonal antibodies or convalescent plasma is recommended.
Should a patient who is diagnosed with Covid-19 shortly after the first dose still receive the second scheduled dose?
The vaccine begins to generate protective immunity 10 to 14 days after the first shot. As a result, it is not surprising that some people have experienced Covid-19 shortly after their first immunisation, and they naturally wonder whether they should proceed with the second shot as originally scheduled.
The current recommendation is that people with current infection should wait until they have recovered from the acute illness and are eligible to discontinue isolation. These recommendations apply both to those who developed Covid-19 before their first injection and to those who developed it after starting the vaccine series. On the basis of this guidance, some people in the latter group may be able to proceed with their scheduled second shot and others will need to wait. Treatment of Covid-19 with either monoclonal antibodies or convalescent plasma should delay receipt of the vaccine by 90 days, since these treatments could theoretically make the vaccine less effective.
How does the vaccine affect the evaluation of a patient and diagnostic testing for possible Covid-19?
The Covid-19 vaccines will not influence the results of PCR or antigen testing for the disease. The vaccines generate antibodies to SARS-CoV-2, which are directed at the spike protein.
Source: Covid-19 Vaccine — Frequently Asked Questions, The New England Journal of Medicine, by Paul Sax, M.D., a Professor of Medicine at Harvard Medical School and an infectious disease specialist.
Disclaimer: This article was compiled based on Dr Sax's views, which were published by the editor of the prestigious New England Journal of Medicine. Actual practice and guidelines pertaining to Covid-19 vaccinations in Singapore may differ from Dr Sax's recommendations.